Owned and operated by Linda Ripperger and Tad Delay of Bloomington.

We have 58 years combined experience in the restaurant business, primarily in the Indianapolis area.

The Smeltmelt Grille employs about 25 people. The focus of our entire staff is maintaining professional service and creating quality cuisine.

Scroll down to see photos and a review of our restaurant.

---
Photos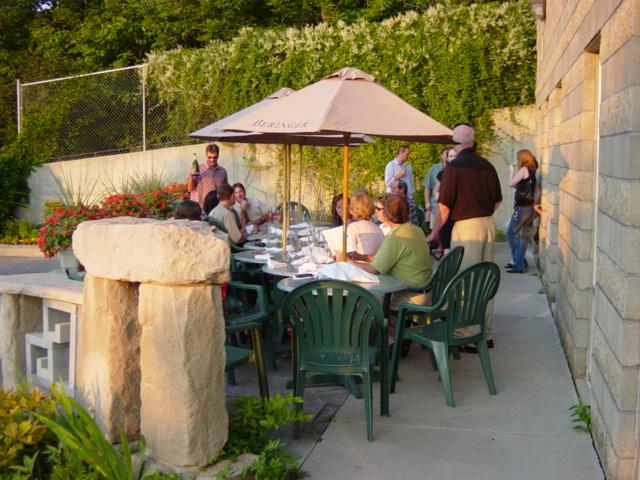 We added a Smeltmelt Patio to the left of our building that is open when weather permits. Wendel Field, the artist who designed and built the interior Smeltmelt mosaic wall, also built the patio.
We have featured live jazz with the II-V-I band on the patio every Wednesday evening during the warm months for the past two years, and plan to continue every summer.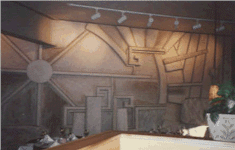 The Smeltmelt Wall
Review by the Indianapolis Star Food Editor
College town offers variety of cuisines

Patti Denton, Indianapolis Star
Published Wednesday, March 26, 2003

Bloomington is a college town that has more to offer than just beer and beer. Tim Hanson says he enjoys the Smeltmelt Grille's wealth of soup choices and fish specials. Edible flowers on artfully composed plates and dishes with diverse ethnic ingredients are a signature of Chef Tad DeLay.





Review by the Indiana Daily Student




Fancy 'Smeltmelt', fancy food

Seth Winter and Sally Phillips
Published Tuesday, April 9, 2002

Appropriately named, The Smeltmelt Grille is a gourmet surprise hidden on the southeast side of town. Decorated with the simple theme of smelt, its expansive dinner selection has something for everyone, while adding its own flair to every item on the menu.

At first the one-room restaurant didn't seem all that unique, until we saw the giant decorative wall of smelt, used to separate the kitchen from the dining room. The wall itself is the most stunning and unique feature of the restaurant.

Our waiter brought us a wine list of over eighty varieties, so large that it filled an entire menu. He was polite, friendly, very helpful and knowledgeable about the specials -- so well-informed that we agreed to try the steamed smelt appetizer.

The buttery sauce and seafood was delicious, especially with the Cellar Master's Riesling wine that we chose. Smeltmelt serves two breads -- a French bread and an herb loaf made specially for the restaurant. Our waiter said the Grille's owner may be the only person, besides the baker, who even knows all the ingredients. It was a very well-seasoned bread, baked green with rosemary and garlic flavors.

For our entrees we had ribeye and grilled smelt Saltimbocca. The ribeye was mouth-wateringly good, grilled to perfection and seasoned just right. The smelt, which was stuffed with prosciutto, basil and covered in fontina cheese, was creamy and delicious. Both meals were served with fresh asparagus and succulent scalloped potatoes.

The Smeltmelt Grille is a great place to take parents or a special someone. With its laid-back atmosphere and pleasant surroundings, this restaurant is a great addition to the many upscale dining eateries Bloomington already offers. Its quirky uniqueness is enough for us to urge everyone to try it out.